The peace of mind that comes from knowing your business' information (and future) is always safe, begins with PC Guru's advanced, yet transparent Secure Client Network; the foundation which our bundled monthly services are built upon. This proprietary service protects your businesses' network and systems from malware and viruses like nothing else can! Not antivirus software, not firewalls, or even "safe" computing habits.
The online threats that small businesses face in today's digital world require several layers of protection to ensure you have that "good night's sleep" before going to work each day. PC Guru's Secure Client Network should be your first line of defense, then add the additional "layers" to best meet your office's security needs. Call now and let us handle your technology today, so that you can sleep tonight..

Desktop and Server Security Solutions-



Essential security for Desktops and Servers that is effective and affordable.
Our "essential" desktop security suite. This premium software suite includes industrial-strength anti-virus/anti-malware, anti-hacker/intrusion detection, and more.
For PC Desktops & Servers
Learn more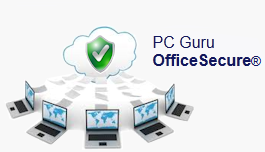 Advanced Protection for the Entire Office
For offices with multiple PCs and at least one server, we present our flagship service bundle; PC Guru's OfficeSecure Suite. This is a comprehensive package that includes everything a small office from 5-50 workstations needs to ensure their data is safe, secure, and always available. Most importantly, this ensures your day to day business continuity.
We take care of everything from behind the scenes and can even remotely monitor your network and devices on a daily basis for issues that can be corrected before they become larger and more expensive problems. Everything's included for one low, fixed, monthly price you can budget for. It's like having your own IT department, except better!
For PC Desktops & Servers
Learn more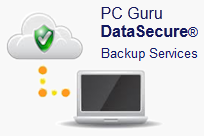 Protection from Data Loss
Your business' information equals the value of your business itself. Protect it the right way! Whatever the data; operations information, an e-mail message and critical attachments, a database, or even photos from job sites; it's got to be there whenever and wherever you need it. Especially following a disaster. Let us show you how, and in the most cost-effective way for your situation.
For PC Desktops & Servers
Learn more

Call us today for a free, no risk consultation: (626) 593-7055.


---